A.S. Haulage's depot is located off Hedon Road, adjacent to Hull's dockland; an area easily accessible from the M1 and M62. The site offers excellent storage facilities, and the company's operations are administered by staff experienced in the needs of the transport and shipping and forwarding industries. Whatever the nature of your goods, A.S.Haulage is the ideal choice for a fast, safe and efficient service in all aspects of transport storage, handling and distribution.
A.S. Haulage employs a work-force of some 35 experienced personnel at its depot in Grindell Street, Hull. The site covers two acres with comprehensive warehouse facilities. The company deploys a major fleet of modern vehicles and fork-lifts for the distribution and handling of clients goods.
TRANSPORT FOR EVERY TASK
A.S. Haulages extensive vehicle fleet is comprised of 25 vehicles ranging from 35cwt. Transits up to 40 ton articulated units and 75 trailers of all classes.
Fork-lifts in use include - 6 fork-lift container stuffers with drum carriers and paper clamps and shafts, one 12 ton fork-lift, one 24 ton fork-lift for handling 20' and 40' containers.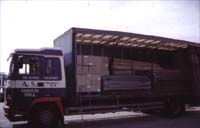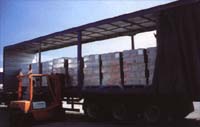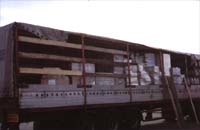 TRAILER HIRE
Operating from Grindell Street site, Johnson and Salter Trailer Hire offers a wide range for use by organisations within the Shipping Industry.