CONTAINER HANDLING
AND STORAGE
The stuffing and unstuffing of containers is undertaken at the Grindell Street depot, which offers facilities for the storage of clients' 20' and 40' containers. Any damage suffered by containers during their voyage can be repaired during their stay. A.S. Haulage's expert staff will carry out a complete inspection and undertake all necessary repairs, precisely to the clients specifications. The area of the site occupied by the company has a covering of double reinforced concrete, which permits the safe operation of 24 ton fork-lifts.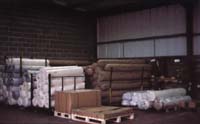 WAREHOUSING
TIMBER HANDLING AND HAULAGE
CONTAINER HANDLING AND STORAGE
GROUPAGE
UK AND CONTINENTAL HAULAGE
STUFFING AND UNSTUFFING
TRAILER HIRE
CONTAINER REPAIRS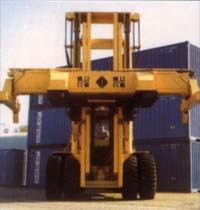 This fork-lift is for 20' loaded
containers and 40' light containers.